Famous Russian people
1. Botkin Sergei Petrovich 1832-1889 - famous Russian doctor and Professor. He revealed the role of the spleen in the circulatory system. Botkin has found means for treatment of various acute infectious diseases - croupous pneumonia, diphtheria. Botkin was a great teacher, he had many disciples. He was the first who started to study Russian medical literature - produced medical newspaper.
2.
Vavilov Nikolai Ivanovich 1887-1943 - Soviet biologist and geneticist, plant, geographer. He is the author of the law of homologous series in hereditary variability of organisms and selection. His first expedition, he organized and conducted in Persia (Iran) and Turkestan Mountain of Tajikistan (Pamir). He proved the theory of the centres of origin of cultivated plants and gathered the largest in the world the world collection of seeds of cultivated plants, amounting to 1940 250 thousand specimens .
3.
Zimin Alexander Alexandrovich 1920 - 1980- historian. He wrote many books on the history of Russia 9 - 18th centuries. These books were - the political system of Ancient Russia, "Russkaya Pravda", "Word about Igor's regiment", the Royal archive of the 16th century and others. Some of his books describe the formation of a United Russian state.
4.
Anna Akhmatova-1889 - 1966 - the famous Russian poet.
Poems written by her, have a special poetic style. Works Akhmatova strict and harmonious and it was included in this number of outstanding writers of the twentieth century. Her poems have been translated into all major languages of the world. In 1964, Akhmatova became an honorary doctor of literature at Oxford University.
5.
Sergey Pavlovich Korolev 1906-1966 was the Founder of Practical Cosmonautics. Academician Korolev is a famous scientist and a founder of practical cosmonautics. He was the chief constructor of the first Earth sputniks and spaceships. He was awarded two Gold Stars of the Hero.
6.
Anton Pavlovich Chekhov 1860-1904 was a famous Russian playwright and physician. He was the third of six children in his family. He is also considered to be one of the greatest writers of short stories in the world. His best short stories are held in high esteem by other writers and critics. Throughout most of his literary career Chekhov practiced as a medical doctor.
7.
Vladimir Ilyich Lenin (Ulyanov) 1870-1924- Russian politician and statesman. He was a founder of the Communist party and the Soviet state. Lenin - one of the leaders of the international Communist dvijenie. He led a revolution in Russia in 1917 , and then the new state.
8.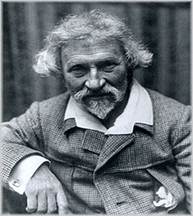 Ilia Efimovich Repin 1844-1930 – great Russian painter. Repin is the author of many portraits, which are an essential part of his artistic heritage. Repin rarely painted historical paintings. The most popular in this genre is "Ivan the Terrible and his son Ivan" (1895).
---